This character puts DC's Joker to shame. And, could probably outdo him on every angle.
ComixTribe has been around for years (est. 2012). A lot of people may not have known about them, but they have quite the cult following. Tyler James started the comic store business under the same name and branched into comics with a huge group of writers, artists, etc.
I had the pleasure of joining their Review team and was given a selection of their comics. I am currently making my way through the comics, but this one so far has stuck out to me as the culmination of some of the creepiest and frightening things a comic book villain could be. Like I said in the header, I have never come across a villain so vile that even I blushed a few times compared to the "tameness" of the Joker.
That's right. I referred to him as "tame".
Oxymoron is the creation of John Lees (And Then Emily Was Gone) and Tyler James (The Red Ten)–both writing the title–and Alex Cormack (Find) on art.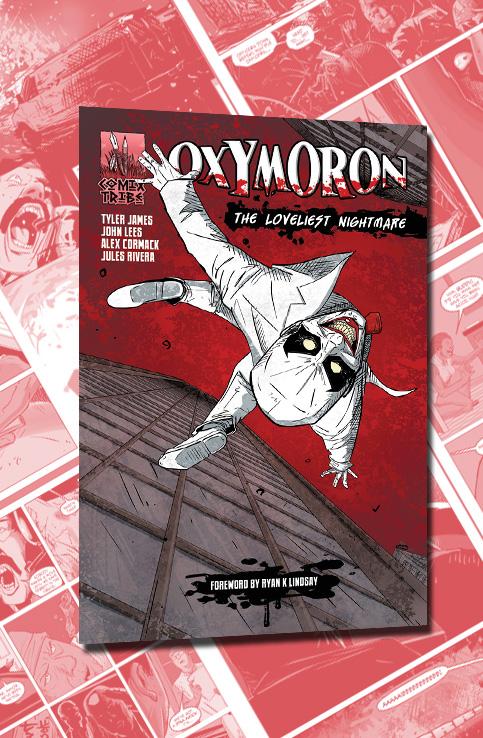 Here is the descrption from their site:
An afflicted detective hunts a serial killer obsessed with contradiction, who is painting a bloody canvass of carnage with the entrails of politicians and power brokers in the corrupt city she calls home.

Oxymoron: The Loveliest Nightmare trade collection https://shop.comixtribe.com/collections/graphic-novels/products/oxymoron-the-loveliest-nightmare-trade-collection
If you thought The Dark Knight pushed the boundaries of a villain, think again. From the beginning of the book to the end, Oxymoron's body count is probably breaking the counter. There are so many deaths, but what stands out is that they are all meaningful in some way. Thus the reason why the villain is called 'The Oxymoron."
I don't want to spoil this series. It's a trip into madness, but also a trip into the frustration of not being able to stop a madman bent on destruction. The deaths range from simple to the insane. I have never read a book hellbent on making the reader squirm on what he does, but this really did.
If you like gore, if you like to root for the bad guy, and if you just like a really good story, the art is spot on and the writing…
…is "killer"
Check it out in their store.
Remember, Dazzling Comics! fans, always support local and independent creators. They will always bring something new to the table, and will surprise you more than ever.
Heatsource out.